EPILEPSY
What is epilepsy ?
Epilepsy is a common neurological disorder that results when something interferes with electrical impulses in the brain. In this disorder, the nervous system produces intense, abnormal bursts of electrical activity in the brain, which can lead to seizures. Seizures temporarily interfere with muscle control, movement, speech, vision, or awareness. Having seizures can be terrifying, especially if they are severe. Fortunately, treatment is available to reduce the abnormal electrical impulses in your brain and control seizures.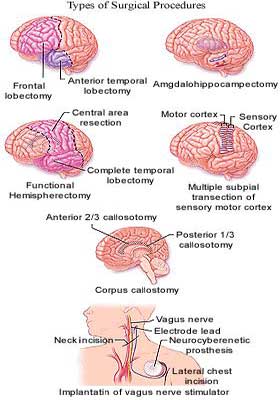 Epilepsy is not a form of mental retardation or mental illness and is not contagious.
What causes epilepsy?
The cause of epilepsy is not always clear. Less than one-half of people with epilepsy have an identifiable, primary cause. Epilepsy is sometimes the result of another condition, such as head injury, brain tumor, brain infection, or stroke.
What are the symptoms?
The main symptom of epilepsy is repeated seizures that occur without warning and often for no clear reason. If left untreated, seizures may continue and even become more severe and more frequent over time.
The way a seizure manifests itself may vary from person to person. For example, your senses may briefly stop working, or you may lose muscle control and your body may twitch or jerk. Some people become trancelike (stare off into space), unconscious, or have convulsions. A combination of seizures is also possible.
Not everyone who has seizures has epilepsy. Sometimes seizures occur as a result of injury, illness, or another medical condition that is not related to epilepsy. In these cases, seizures stop once the condition improves or goes away. Epilepsy is a chronic (long-term) disorder that causes repeated seizures if left untreated or which sometimes continues despite treatment.
Facts about Epilepsy:
About two million people in the United States have epilepsy or have had a seizure at some point in their lives.


About 75% of people with epilepsy had their first seizures in childhood.


Epilepsy was first mentioned more than 3,000 years ago in ancient Babylon. It was thought to be an attack by demons or gods.


The Greek physician Hippo crates first suggested, about 400 BCE, that epilepsy was a disorder of the brain.


Bromides were the first drugs to be used effectively against epilepsy. Charles Locock introduced their use in 1857.


More than 30 different types of seizures have been described.


Some researchers have estimated that as many as 500 different genes could be linked to epilepsy.
Resource Guide for Coping with
Autism
Children